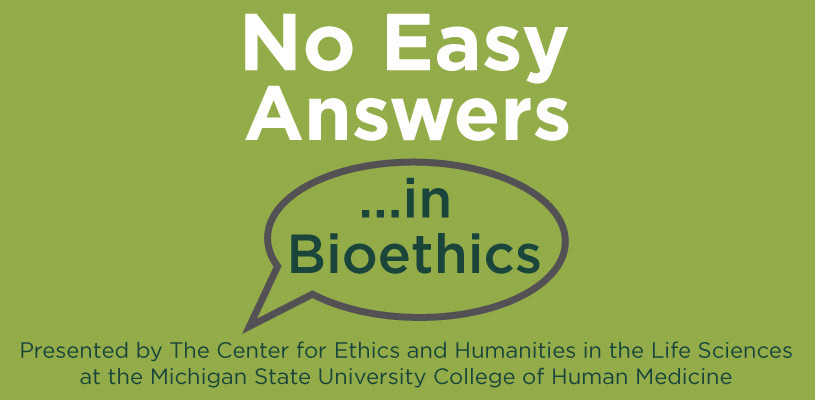 No Easy Answers in Bioethics is the official podcast of the Center for Ethics and Humanities in the Life Sciences (CEHLS). I started the series in 2017 and partnered with H-Net: Humanities and Social Sciences Online for hosting. The series is a platform for CEHLS faculty and their collaborators to discuss their research and scholarship and have conversations about other timely bioethics topics. The content is meant to be accessible to the lay public, but is more specifically targeted at ethicists, academics, and health care professionals. As the series producer, I invite and coordinate guests, record and edit the audio, complete episode transcripts, write copy for web and social media, create graphics for social media posts, and send announcements to the CEHLS listserv. Episodes are released monthly during the academic year. No Easy Answers in Bioethics is available on H-Net, Apple Podcasts, and Stitcher.
This episode featuring Devan Stahl and Tom Tomlinson addresses the following questions: What does it mean to declare brain death in the clinical setting? How does the language we use surrounding death complicate these situations? What beliefs and philosophies exist regarding what constitutes the death of a person?
Sisters and collaborators Devan Stahl, CEHLS Assistant Professor, and Darian Goldin Stahl, artists and printmaker, discuss Devan's book, Imaging and Imagining Illness: Becoming Whole in a Broken Body. Their story delves into the intersection of art, illness, disability, and self-identity.
CEHLS faculty Libby Bogdan-Lovis and Karen Kelly-Blake discuss their ongoing medical workforce diversity research project, focusing on the notion that underrepresented minorities in medicine are often expected to pursue a service track—an expectation not placed on their white majority peers.